Buy The Book, Read An Excerpt
"Promise me you'll never put me in a home"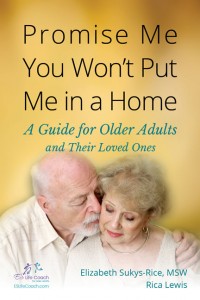 …it's a phrase that has been stated on countless occasions by older adults facing the reality that aging successfully alone is no longer a safe or viable option. None of us wants to lose our independence, and the horror stories surrounding the adult care industry may have many of us believing that a "home," (whether it's a nursing home, assisted living facility, or other senior housing community) is a death sentence, or at the very least, a prison without bars.
The truth is, you need not spend your golden years in a place that feels foreign or bleak, or make decisions that feel forced, and largely driven by factors outside of your control. This book will help you navigate your best options in your older adult years, and find authentic solutions that bring you the quality life you deserve.
In This Book You'll Discover:
How to determine whether home, or another housing solution is appropriate for you
How to shop for a care facility that's safe, comfortable, and affordable (complete with checklists and guides)
Where to look for resources, financial assistance and help with age-related concerns
How to minimize family conflict and find answers that everyone can agree upon
… and so much more!
Life is fluid and we must be prepared for, not afraid of or resistant to, change. This book, written by Elizabeth-Suky-Rice, MSW, and co-authored by Rica Lewis, offers solutions to the seeking senior and his/her loved one, caregiver, or friend. It's a must-have guide to living with grace and dignity, despite life's challenges.
Growing older does not mean losing your ability to participate fully in life.